New Tricks: Explore Virtual Reality
Thursday 7 December 2023 at 2:00PM
Pop-up Library
Event Description
Ever wondered about Virtual Reality? Explore different worlds and experiences with a VR Headset, including games, painting in 3D, Google Maps, and meditation.

Presented in partnership with Susannah Langley of Drawn to Sound.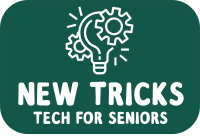 Event Partner
This program is made possible thanks to the Victorian State Government Digital Literacy Seniors Program.   
Bookings
This event has concluded. It's a little too late to make a booking!
Technology & Learning Events